History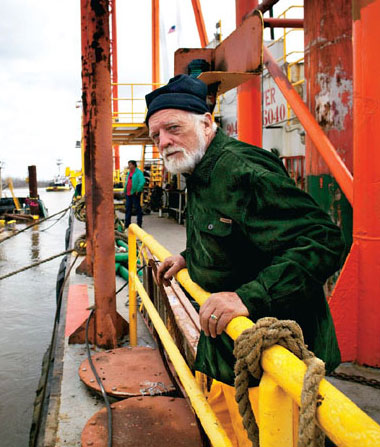 Latham Smith founded Smith Maritime in 1968 when he built his first oceangoing boat, the Tug ELSBETH, on the Miami River in Florida. Since the successful operation of that boat, Latham has built three more tugboats, the ELSBETH II in 1987, the ELSBETH III in 1998, and the RHEA in 2002. Latham's influence and unique design characteristics have given these grand tugs an air of strength with class.
Latham's shipyard on the St. John's River in Green Cove Springs, Florida was later set up as a place to build new vessels and maintain the fleet. The ELSBETH II, ELSBETH III, & her twin RHEA were built here. These sister tugs were built with three engines each to maximize power and minimize fuel consumption. The hulls of the boats are shallow to allow better access to coastal or low-lying areas. In addition, they have heavy reinforced ½ inch plates and heavy rubber fendering. This hull design and fendering is so that contact in moderate conditions will result in minimal damage and risks are taken with confidence. The prop/nozzle configuration is also robust enough to risk conditions that are unthinkable for other tugs. Every detail in the stellar design of these tugs are testaments of Latham's skill and ingenuity.
In 2006, Latham purchased the DIXIE DIVER. She is a 300 Ton Derrick Barge that has been refit and rebuilt at our Morgan City, LA location. The DIXIE DIVER is a welcome addition to salvage operations, heavy lifting, and construction. In 2009, Latham added the semi-submersible barge, ELVIS. Following the ELVIS in 2012, Latham added a heavy-lift deck barge, the MARILYN MONROE. Both of these barges have been rebuilt and brought up to Smith Maritime, as well as Full Ocean ABS and USCG, standards. As the company grows so does the fleet by acquiring new tugs and barges to accommodate all the services offered. The people have evolved with the Company to master not only the varied skills to safely operate and maintain the vessels, but also to acquire the now mandatory certifications and licenses to do so.
| Year | Operation | Location |
| --- | --- | --- |
| 1990 | "GOLIATH ATLANTIC" & ELSBETH II – FLO/FLO | NOLA to Buenos Aries with river barges. |
| 1992 | "GOLIATH PACIFIC" & ELSBETH II – FLO/FLO | NOLA to Buenos Aries with river barges |
| 1993 | "GOLIATH PACIFIC" & ELSBETH II – FLO/FLO | Brazil to Singapore with Drill Platform. |
| 1994 | "GENMAR 104" & ELSBETH II –FLO/FLO | Japan to Vancouver |
| 1996 | " GOLIATH PACIFIC" & ELSBETH II –FLO/FLO | Jacksonville to Belgium with Casino Boats. |
| 1998 | ELSBETH II Towage of 146 Meter Barge | Venezuela to France |
| 1997 | ELSBETH II Tandem Tow of Army LCUS | Norfolk to Southampton UK. |
| 1998/1999 | ELSBETH II Towage of 116 m Tank Barge on Multiple Trips | NOLA to Callao Peru |
| 1999 | ELSBETH II Towage of an Aircraft Carrier | Philadelphia to Norfolk |
| 2000 | ELSBETH III Towage of J/U "Karlissa B" | Florida to Chile. |
| 2001 | ELSBETH III Towage of 138m Barge | Bermuda to Spain. |
| 2001 | ELSBETH II Tow of M.V CAPE MENDOCINO 820x106 | New Orleans to Mobile |
| 2004 | "AMT TRADER" & ELSBETH III -- FLO/FLO | Curacao to Madeira |
| 2004 | RHEA Tow of the USS RAZORBACK SUBMARINE | Turkey to NOLA |
| 2004 | ELSBETH II Towage of the 92m Power Barge | Houston to Rio Brazil. |
| 2004 | ELSBETH III Towage of the SS AMERICAN RANGER 507'L | Norfolk to Brownsville |
| 2005 | ELSBETH II Towage of the 110m Power Barge | Rio Brazil to Guayaquil Ecuador |
| 2005 | ELSBETH III Towage of 300x100 Barge with deck sections | Morgan City to Tunisia. |
| 2005 | RHEA Tandem Tow of two 250x72 Barges | New York to Malta. |
| 2005 | RHEA Tow of Derrick Barge "TAKLIFT" | Rotterdam to Marcaibo, Venezuela. |
| 2005 | RHEA Tow of TEXAS CLIPPER 45 | Beaumont to Lake Charles |
| 2005 | ELSBETH II Tow of MV DETROIT 789x102 | Norfolk to Brownsville. |
| 2006 | ELSBETH III Tow of USCG Cutter | NOLA to Hawaii. |
| 2006 | ELSBETH II Tow of MV SAN DIEGO 539x79 | Norfolk to Brownsville. |
| 2006 | ELSBETH II Tow of M/V MALLORY LYKES 666x75 | Beaumont to NO |
| 2006 | ELSBETH II Tow of M/V ALLISON LYKES 666x75 | Beaumont to NOLA |
| 2006 | ELSBETH II Tow of M/V JOSHUA HUMPHREYS 677x97 | Charleston |
| 2007 | ELSBETH II Tow of LONESTAR HORIZON Barge 360x90 | Galveston |
| 2007 | ELSBETH II Tow of M/V LEXINGTON 620x78 | Beaumont to NOLA |
| 2007 | ELSBETH II Tow of M/V PENNSYLVANIA TRADER 640x82 | Beaumont |
| 2007 | ELSBETH III Tow of M/V HUNLEY 599x83 | Norfolk to NOLA |
| 2007 | RHEA & BISSO418 on Salvage of Rowan Platform Legs | US Gulf |
| 2007 | ELSBETH II Tow of M/V TOMSK Tanker 565x91 | Freeport to Lisbon |
| 2008 | ELSBETH III Tow of Tank Barge "DBL-152" 442x76 | Mobile to Piraeus |
| 2008 | ELSBETH II Salvage of M/V NEW FLAME | Morgan City to Lome, Togo |
| 2008 | RHEA & ATLANTA BRIDGE – FLO/FLO | Gibraltar |
| 2008 | ELSBETH II Tow of M/V CEMBAY Progresso, | Mexico to Turkey |
| 2008 | ELSBETH II Tow US NAVY Submarine Drydock ARDM (492'L x 96'W) | Groton, CT to Charleston, South Carolina |
| 2009 | ELSBETH II Tow of OSG-350 Tank Barge (655' x 105' x 55') | Tampa to Mobile |
| 2009 | ELSBETH III Tow of USN Vandenberg (522'L x 71'6"W) | Norfolk to Key West |
| 2009 | RHEA Multiple Tows of the Atlanta Bridge 400x100 | Corpus Christi to Orange, TX |
| 2009 | ELSBETH III Tow of Yue Gong Bo 39 (300x90) Construction/Crane Barge | Ensenada |
| 2009 | ELSBETH II Tow of M-300 Tank Barge (587'L x 93'W) | Tampa, Florida to Lagos, Nigeria |
| 2010 | ELSBETH III Tow of OSCG0351 Tank Barge (655' x 105' x 55') | Tampa to Pascagoula |
| 2010 | ELSBETH III Tow of M/V Horizon Crusader (700' x 90') | Orange, Texas to New Orleans |
| 2010 | ELSBETH II Tow of BB-110 Barge from for Earthquake Relief in Jan | Amelia to Haiti |
| 2010 | ELSBETH III Tow of BB-110 with Liftboats | Morgan City to Malabo in March 2010 |
| 2010 | ELSBETH II Tow of M/V PERLA (477x69x14) in May 2010 | New Orleans to Gibson, LA. |
| 2010 | ELSBETH II Tow of Captain H.A. Downing (674x89x17) in June 2010 | New Orleans to Beaumont |
| 2010 | ELSBETH 1 Tow of MB105 Crane Barge in Support of BP Oil Spill Cleanup | New Orleans |
| 2010 | RHEA Tow of Big Gulp 2 Skimmer in BP Oil Spill Cleanu | New Orleans |